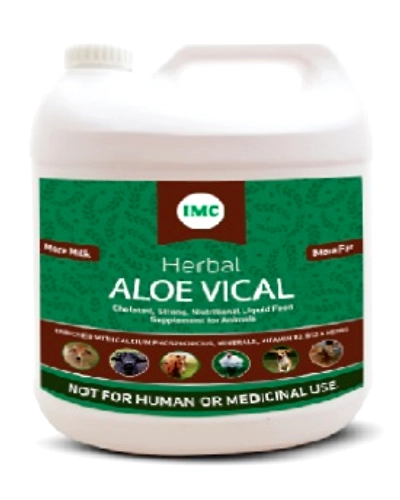 Herbal Aloe ViCal (5 Ltr)
You Save: 26. Discount 3.59%
| | |
| --- | --- |
| SKU: | RHIV000001 |
| Availability | In Stock |
Write a Review
Helps maintain proper health of animals
Makes bones and teeth stronger
Helps increase milk production in dairy animals
Supplements the required calcium, phosphorus and vitamins
Additional Information

ALOEVERA - It helps improve the immune system in animals and is useful in treatments relating to epithelial tissues.

PHOSPHORUS - It plays a key metabolic role in animals and is helpful in controlling the appetite, increasing feed efficiency and fertility.

SHATAVARI - It helps improve digestibility, stimulate lactiferous tissues and increase milk production in dairy animals.

JIVANTI - It helps in healthy growth of calves and is also useful in increasing milk yields.

Step 1 - For cattle/horses/buffalos: 100ml daily

Step 2 - For calves/dogs: 20ml daily

Step 3 - For poultry: 10ml daily

Step 4 - Or, as directed by a veterinarian

Herbal Aloe ViCal is an exclusively formulated liquid food supplement for animals, which supplies the required calcium, phosphorus and vitamins in the body for proper health growth. Enriched with Calcium, Phosphorus, Minerals, Vitamins D3, B12, and natural herbs, this chelated and nutritional liquid food supplement helps increase the milk production and is also useful in making the teeth and bones stronger.