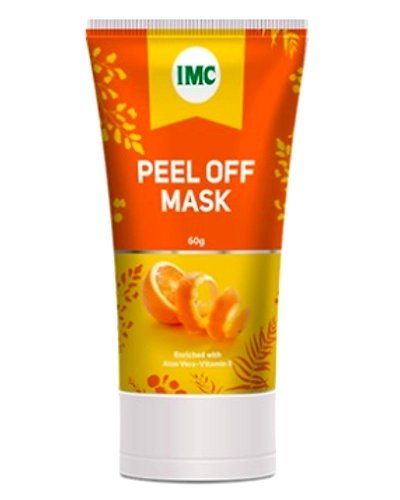 Peel Of Mask (60g)
You Save: 6. Discount 4.44%
| | |
| --- | --- |
| SKU: | RHIS000325 |
| Availability | In Stock |
Write a Review
TREAT YOUR FACE RIGHT WITH PEEL OFF MASK!
Enriched with Aloe Vera and Vitamin E,
Peel Off Mask helps remove blackheads, dirt, and impurities from surface of face besides giving a smooth feeling.
Clear Up The Face And Make It Shine With Peel Off Mask.

Additional Information

INGREDIENTS - Polyvinyl alcohol, Orange Ext, Glycerin, Mica Pearl

HOW TO USE - Apply it all over the face. Make a layer of it and hold on the mask for at least 15 minutes. Peel off the mask and rinse off the face with lukewarm water.

BENEFITS - IMC Peel Off Mask produces a smoother, brighter skin texture. Its key ingredients work out together to bring glow on face. It is useful for removing blackheads, dirt and impurities from the skin.