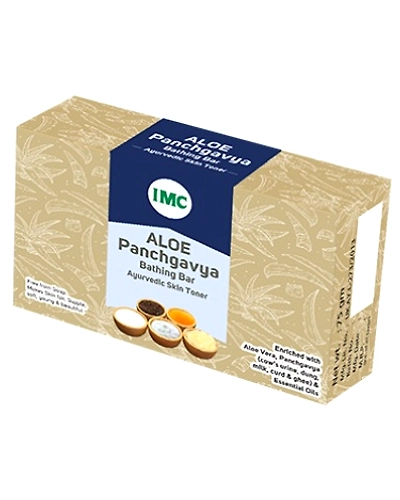 Aloe Panch Gavya Bathing Bar Ayurvedic Skin Toner (75g)
You Save: 4. Discount 4.44%
| | |
| --- | --- |
| SKU: | RHIS000311 |
| Availability | In Stock |
Write a Review
Helps in preventing wrinkles, pimples and several other skin infections.
Provides a glowing and ailment-free skin.
Makes your skin soft, smooth and supple.
Keeps body odour in check.
Additional Information

ALOE VERA - It is a natural moisturiser, which nourishes the body and helps to prevent skin ailments. It is also very useful in reducing the signs of ageing and treating sunburn.
PANCHGAVYA - This traditional mixture of five different cow products purifies skin and nourishes it.
GLYCERINE - Helps in treating skin conditions like dry skin and fine lines. It also makes your skin soft and supple.
SUNFLOWER OIL - Rich in nutrients and anti-oxidants, it is effective in fighting skin disorders like acne, inflammation, redness and rashes.