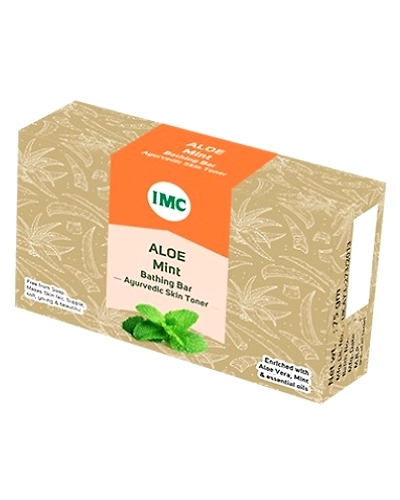 Aloe Mint Bathing Bar Ayurvedic skin toner (75G)
You Save: 4. Discount 4.44%
| | |
| --- | --- |
| SKU: | RHIS000308 |
| Availability | In Stock |
Write a Review
Ensures a healthy, beautiful and glowing skin.
Helps in preventing acne, pimples, wrinkles and various other skin issues.
Helps you get rid of dry skin.
Keeps body odour in check.
Additional Information

ALOE VERA - It is a natural moisturiser, which nourishes the body and helps to prevent skin ailments. It is also very useful in reducing the signs of ageing and treating sunburn.
MINT - It contains the highest amount of antioxidants, due to which, it gives you a refreshing and soothing feel.
GLYCERINE - It helps to fight dry skin and many other skin conditions. Owing to its stature as an effective emollient, it helps make the skin soft and supple.
COCONUT OIL - It is useful in deep cleansing of the skin and also, aids in giving radiant looking skin.