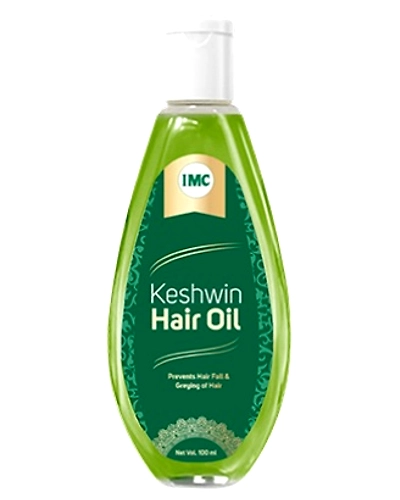 Keshwin Hair Oil (100ml)
You Save: 7. Discount 4.38%
| | |
| --- | --- |
| SKU: | RHIP000002 |
| Availability | In Stock |
Write a Review
For overall development of hair.
When your hair looks great, half the job's done.
Deeply nourishes your hair, leaving it lush and healthy.
It has a relaxing effect on your mind and body.
Additional Information

ALOE VERA - Acts as a natural conditioner that leaves your hair smooth and shiny.

BRAHMI - Brahmi is a scalp specialist that promotes hair growth and keeps dandruff at bay.

PRIYANGU - Literally means lovable and charming, and has the same effect on your hair.

TULSI - Improves blood circulation and keeps your scalp cool.

Effective memory booster that relieves headache, stress and tiredness. Gives a soothing effect and promotes sound sleep. It is a boon for people suffering from baldness, dandruff, hair fall and greying of hair.