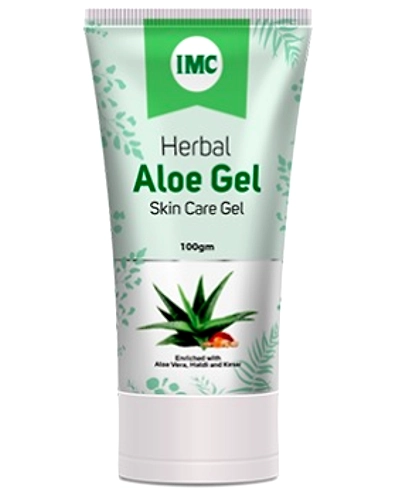 Herbal Aloe Gel (100g)
You Save: 11. Discount 5%
| | |
| --- | --- |
| SKU: | RHIS00004 |
| Availability | In Stock |
Write a Review
Helps treat acne and blemishes making skin smoother and brighter. Treats dull skin and makes the skin luminous and brighter.

Helps in improving the skin texture and reducing skin scars. Delays ageing and reduces hyper pigmentation of the skin
Massaging the hair with Aloe Gel, opens the pores, this helps in hair growth and increasing the thickness of hair. It also helps in preventing dandruff, premature graying of hair and hair loss, and makes hair long, thick, shiny and beautiful.
For babies, applying the gel on baby's sensitive skin near diaper areas prevents rashes.
Additional Information

ALOE VERA - It is a great moisturiser, which nourishes the body and helps to prevent skin ailments. It is also very useful in reducing the signs of ageing and treating sunburn.

HALDI - Fights ageing, reduces acne and makes skin more radiant.

KESAR - It has therapeutic properties, which helps with skin cell formation and repair. It also helps in soothing dry and dull skin.

Step 1 - Rinse your face with water.

Step 2 - Apply Herbal Aloe Gel on the face.

Step 3 - Massage gently with fingers until the gel disappears

Protects the skin from harmful UV rays, reduces hyper-pigmentation makes the skin beautiful, fair and glowing. It works as a protective shield against dust, chemicals, pollution, etc.