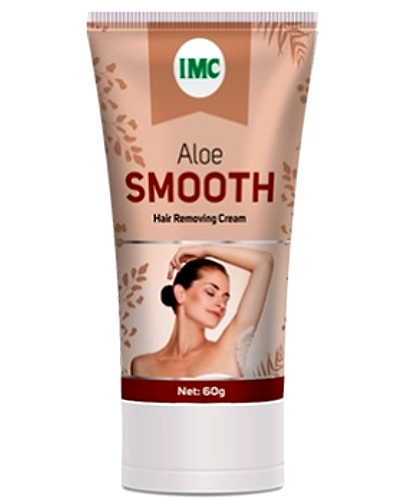 Aloe Smooth Hair Removing Cream (60 g)
You Save: 1. Discount 0.56%
| | |
| --- | --- |
| SKU: | RHIP000415 |
| Availability | In Stock |
Write a Review
Keeps skin soft & free of rashes and abrasion
Helps in healing the damaged hair follicles
Improves, smoothens the skin texture and tones the skin
Lightens the appearance of the skin & keeps it soft and supple.
Additional Information

AloeVeda - The forever goodness of Aloe Vera blended with science of Ayurveda for an au-naturale robust wellness.
Tulsi - It helps in brightening the skin. This magical herb is also very helpful in tightening pores and reducing skin itching.
Rose Petals - It helps reduce blemishes and leaves a beautiful fragrance on the body.
Aloe Smooth Hair Removing Cream gives you smooth and soft skin. Removing hair with Aloe Hair Removal Cream is a delight, as it makes the entire hair removal process not only pain free but also hassle-free. It is enriched with natural herbs and aloe extracts known for their soothing properties. It gives you velvety soft skin after removing hair gently without much pain. It is suitable for all skin types and does not leave any rashes or abrasion on the skin. Now say goodbye to itchy hair, painful waxing and tweezing every month.