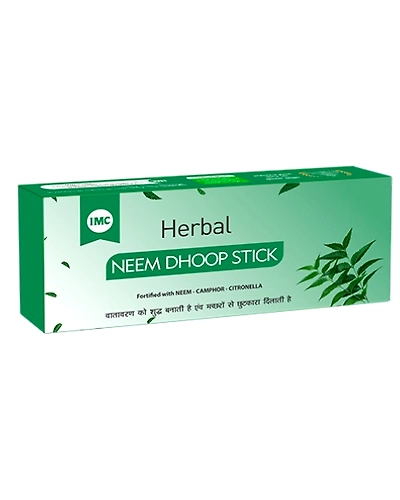 Herbal Neem Dhoop Stick (10 Sticks)
You Save: 2. Discount 5.71%
| | |
| --- | --- |
| SKU: | RHIH000809 |
| Availability | In Stock |
Write a Review
It creates positive, holy, happy and peaceful atmosphere around you. It is eco - friendly and carbon free. It safeguards against many illnesses and save yourself and your family from malaria, dengue as camphor and neem have medicinal properties. When burned, it purifies the home and drives away negative energy. It also relieves stress, depression and anxiety.
Additional Information

NEEM POWDER - Neem Powder helps cleanse the air of negativity, airborne micro-organisms.

CAMPHOR OIL - Fragrance of Camphor Oil has a calming effect on the mind.

CITRONELLA OIL - This mosquito repellent protects from mosquitoes. It also helps relax your mind.

JOSS POWDER - It has strong viscosity and adhesive properties.

Step 1 - Open the box and pick one stick.

Step 2 - Light the tip of the dhoop stick.

Step 3 - Gently extinguish the flame by blowing or fanning.

Step 4 - Place it on appropriate incense stand.

Herbal Neem Dhoop Stick pack encompasses mesmerizing aroma dhoop sticks. You can use these herbal sticks while meditating or relaxing or for offering your prayers. Have a heavenly aroma environment and purified atmosphere with Herbal Neem Dhoop Stick (Agarbatti like).