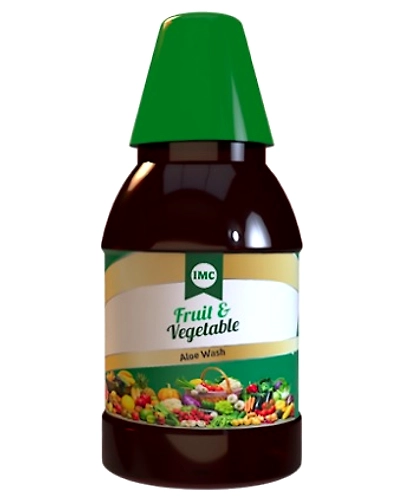 FRUIT AND VEGETABLE ALOE WASH
You Save: 10. Discount 5.26%
| | |
| --- | --- |
| SKU: | RHIH000814 |
| Availability | In Stock |
Write a Review
INGREDIENTS - Aloe Vera, Neem Oil, Lemon Oil, Tulsi Oil
BENEFITS - Fruit And Vegetable Aloe Wash is a safe and harmless solution to remove hazards of harmful elements such as germs, dirt, pesticides, fungicides, pathogens, etc. It is eco friendly and biodegradable. Its antimicrobial properties kill 99.9 % of common bacteria which are harmful to health. Moreover, it does not remove any residue, after taste or smell.
Additional Information

HOW TO USE - Dilute 30 ml (one cap) of IMC Fruit And Vegetable Aloe Wash in 3 litres water. Soak fruits and vegetables in it for 5-7 minutes. Then take them off and wash under running tap water.

Fruits and vegetables are an integral part of our diet. Moreover, both fruits and vegetables are health-friendly and keep us fit and healthy. We should take care of the fact that various hazards like pesticides, fungicides, dirt, sand, oil, wax, bacteria remain sticking to the surface of fruits and vegetables. Only rational washing can make it clean. To resolve this problem IMC has brought in Fruit and Vegetable Aloe Wash.