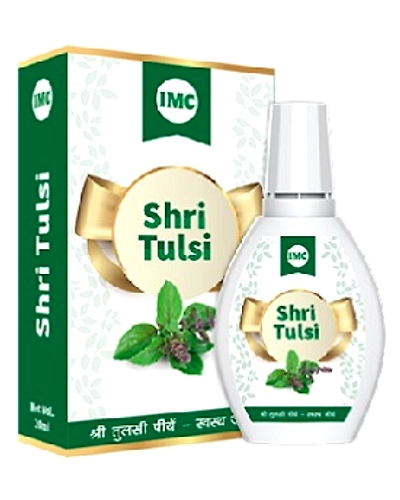 Shri Tulsi (20ML)
You Save: 6. Discount 3.08%
| | |
| --- | --- |
| SKU: | RHIHE000175 |
| Availability | In Stock |
Write a Review
The Magic of Five Tulsis Shri Tulsi is a magical wellness herb, which is a combination of five different types of Tulsis: Shyama Tulsi, VishnuTulsi, Rama Tulsi, Nimbu Tulsi, Van Tulsi
Applying Tulsi, on burns and on poisonous insect bite, provides instant relief.
Cancer patients should take 2 drops of Shri Tulsi with one glass of buttermilk every morning and evening.
People suffering from scabies and eczema should consume apply Shri Tulsi.
Helps to fight more than 200 diseases like cough, cold, fever, bronchitis, lung infection and digestive problems
HOW TO USE - Add one drop of Shri Tulsi to one glass of water or tea. Avoid consumption of milk with Shri Tulsi or after consuming Shri Tulsi. Have it 4-5 times a day or use as Directed by the Physician.
Additional Information

Shri Tulsi is a 100% natural and herbal product, which serves as the best mouth freshener and relief from throat irritation, irritable cough and digestive problems. It contains the double benefits of Tulsi and Mulethi, both known for their health and medicinal values since ancient times. Tulsi is a wonder leaf in fighting common cold and fever and can be consumed by people across all age groups. Mulethi is one of the main ingredients, which has expectorant and bronchodilator properties that can help in subsiding conditions like cough, bronchitis and also reduce the effects of chronic asthma. It is also effective to those who wish to quit smoking and tobacco.