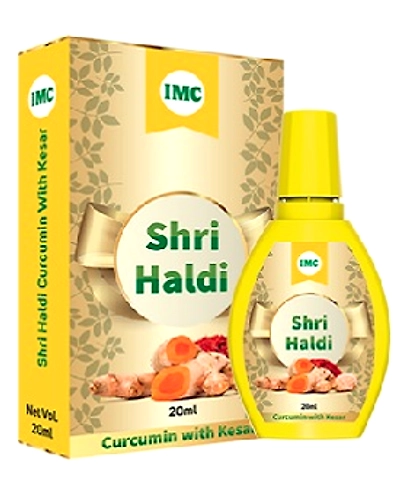 Shri Haldi Curcumin with Kesar (20ml)
You Save: 6. Discount 3.08%
| | |
| --- | --- |
| SKU: | RHIHE000174 |
| Availability | In Stock |
Write a Review
Curcumin is the key ingredient of turmeric. Turmeric contains around 2 percent content of curcumin. Its consumption purifies the blood. Every person must take twice a day four drops of Shri Haldi mixed in 100 ml water or milk.
It Helps control diabetes. Its constant use makes skin flawless and glowing. It fights signs of aging, wrinkles and other skin related diseases.
Its consumption at night brings better and sound sleep. Consuming it empty stomach in early morning can reduce fat mass leading to weight loss.
It has incredible benefits against stomach related diseases e.g. indigestion, stomach gas, stomach pain etc.
It can help treat arthritis. Rinsing with lukewarm water containing its four drops can treat sores in the mouth
Additional Information

Keeps the lever healthy. Beneficial in joint pains, skin diseases, arthritis, cough, common cold etc.

Strengthens the bones. Prevents the growth of cells causing cancer. Helps clearing the blood by wiping out the toxic elements.

Shri Haldi forces the poisonous substances existing in our body to come out. Beneficial in the cases of common cold, influenza and cough. It Lowers risk of heart related diseases e.g. high cholesterol and heart attack etc. Prevents chronic diseases like cancer. It supports bones and make them strong and healthy. Helps control diabetes. Its constant use makes skin flawless and glowing. It fights signs of aging, wrinkles and other skin related diseases