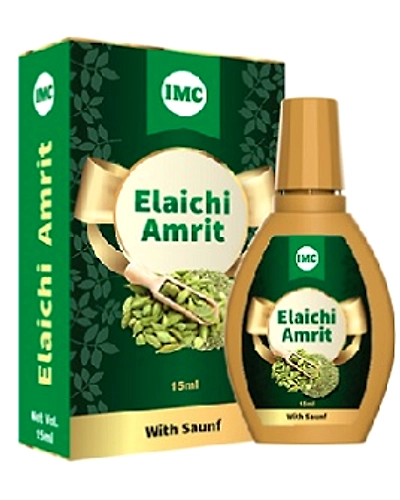 Elaichi Amrit (20ml)
You Save: 12. Discount 4.8%
| | |
| --- | --- |
| SKU: | RHIHE000131 |
| Availability | In Stock |
Write a Review
Elaichi Amrit is nectar extracted from the amazing duo of Elaichi and Sauf.
Works as a mouth freshener
Helps detoxify the body
Helps relieve acidity and indigestion Helps improve blood circulation and prevent spasms
It relieves from gas, flatulence, constipation, acidity, nausea, colic spasms, dysentery and urinary tract infections.
Additional Information

Making it a part of everyday health practice can leave you feeling active and energetic while giving you fresh breath that lasts long. It also acts as a very good mouth freshener. This amazing product is very useful in relieving from acidity, indigestion and is a powerful detoxifier. Improving blood circulation, relieving you from cough and cold, preventing menstrual spasms and weight management facilitator are just a few of the many health benefits this product has to offer you and is, therefore, the Drink of the Gods brought to you by Ayurveda.