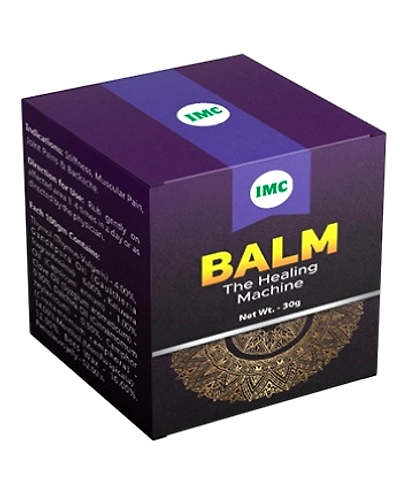 Balm (30g)
You Save: 7. Discount 4.67%
| | |
| --- | --- |
| SKU: | RHIHE000126 |
| Availability | In Stock |
Write a Review
Helps relieve pain and stiffness from the body
Helps relieve muscular pain, joint pain and backache
Helps relieve clogged nose and congestion during fever and cold
Improves physical functioning

Additional Information

It helps to reduce body stiffness, headache & cold. It gives instant relief from congestion, neck pain and blocked nose during fever or cold.

CAMPHOR - It is used topically to relive pain and reduce itching. This excellent ingredient is also useful to treat fungal infections of the cold sores, haemorrhoids and osteoarthritis.

MENTHOL - It acts as a counter-irritant when applied directly on the skin, essentially blocking the pain signals from reaching the brain.
BEESWAX - It helps relieve pain and inflammation and has mild anti-swelling effects.
GANDHAPURA OIL - It is very useful for local inflammatory swelling and stiffness of the joints. This miracle oil also helps to ease aches and pains.