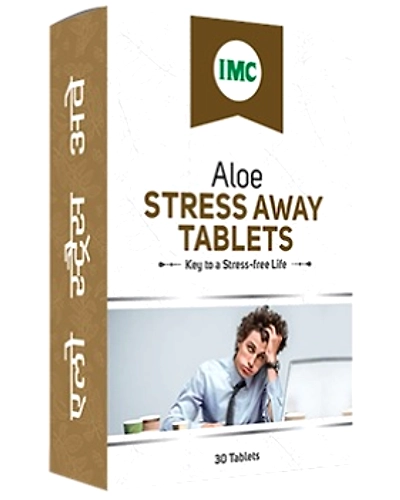 Aloe Stress Away (30 Tablets)
You Save: 18. Discount 5%
| | |
| --- | --- |
| SKU: | RHIHE000123 |
| Availability | In Stock |
Write a Review
Help you live a stress-free life
Helps fight insomnia, headache, migraine, and neurosis
Reduces anxiety and uplifts the mood
Calms the nervous system

Additional Information

ALOE VERA - It is rich in vitamins, which are essential for the proper functioning of the human body and thus helps relieve stress.
BRAHMI - It can decrease anxiety by improving the production of serotonin – the hormone that claims the mind.
SHANKHPUSHPI - It is useful to cure sleeplessness and is also a good remedy for headache, tension, and frustration.
JATAMANSI - It calms your brain and helps you get a good sleep. This wonder herb is also useful in reducing stress.

Help to resolve Male and Female Sexual (Sex) Problems. Stimulating & refreshing to a tired mind, it reduces stress and anxiety. It calms the mind, reduces lethargy and relieves headache, insomnia, migraine and neurosis.