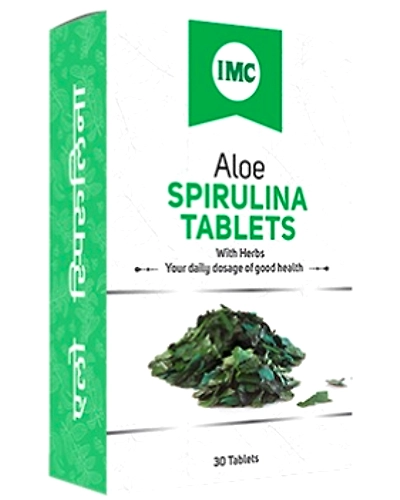 Aloe Spirulina (30 Tablets)
You Save: 18. Discount 5%
| | |
| --- | --- |
| SKU: | RHIHE000122 |
| Availability | In Stock |
Write a Review
Provides the necessary nourishment to your body.
Boosts immunity and helps fight anemia.
Helps to increase eye vision and protects body cells from damage.
Keeps blood pressure in check and protects your heart.

Additional Information

It prevents the formation of cholesterol and blood clots. Highly effective for diabetes and high blood pressure. It helps to keep the body, bones, cells and tissues healthy.

ALOE VERA - Nourishes the body, ensuring a holistic well being
SPIRULINA - Loaded with various nutrients and antioxidants, Spirulina has several health benefits like curing heart diseases, reducing cholesterol, reducing blood pressure, improving muscle strength and endurance, etc.
ARJUNA - Fights damage from free radicals and inflammation and also helps in boosting energy.