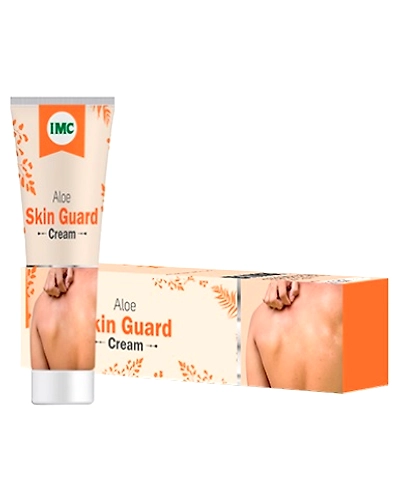 Aloe Skin Guard Cream (30g)
You Save: 6. Discount 4.44%
| | |
| --- | --- |
| SKU: | RHIHE000121 |
| Availability | In Stock |
Write a Review
It helps treating the eczema.
It is beneficial in skin problems like red blotches, rashes, ringworm, itching, blisters etc.
It reduces the spots and stains caused by burning, wounds, chickenpox and injuries.
It is beneficial to cure the fungal skin.

Additional Information

KARANJ OIL - It helps treating eczema, psoriasis, leprosy because it prevents the infection caused by microbes or germs.
MANDOOKPARNI - It is beneficial in cases of wounds, skin ulcers and burning skin.
NEEM - It consists of antibacterial properties. It removes swelling and itching on the skin. It also helps to treat the acne, pimples, stains, and scars on the skin.
ALOE VERA - It has the ability to provide joint support by helping with inflammation and swelling, as it helps modulate the body's immune system.