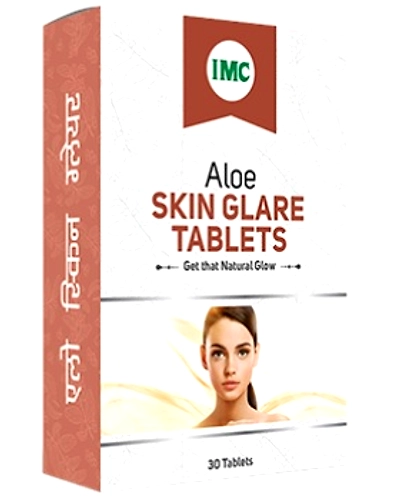 Aloe Skin Glare (30 Tablets)
You Save: 18. Discount 5%
| | |
| --- | --- |
| SKU: | RHIHE000120 |
| Availability | In Stock |
Write a Review
Keeps the skin fair, healthy and glowing
Helps prevent the skin from pimples and unwanted pigmentation
Aids in reducing the signs of ageing
Unclog pores and helps in controlling excess oil
Additional Information

Makes the skin clear and glowing, repairs damage and fights against aging and skin problems such as acne, scars, etc.

ALOE VERA - It ensures exhaustive care for the skin. This magical plant has several sterling benefits for the skin including moisturizing the skin, treating sunburn, acne, and other skin infections, reducing the signs of ageing, etc.
BADIHARITAKI - Extremely helpful in curing Eczema and other skin infections. It is also helpful in slowing down the process of ageing.
SUNTHI - It has anti-inflammatory and antibacterial properties, which help in unclogging pores and killing acne-causing bacteria.
TRIPHALA - High in Vitamin C, it promotes collagen formation ensuring a firmer skin tone.