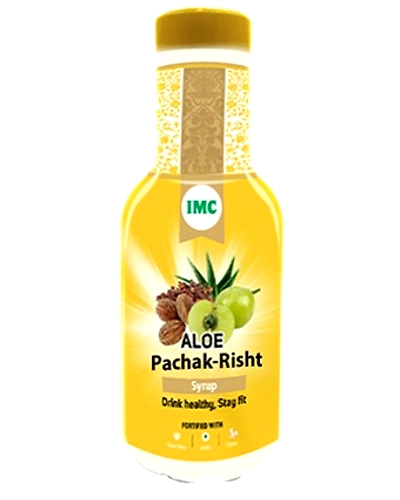 Aloe Pachak Risht (500ml)
You Save: 6. Discount 2.35%
| | |
| --- | --- |
| SKU: | RHIHE000117 |
| Availability | In Stock |
Write a Review
It protects liver by providing strength to it.
It strengthens the digestive system.
It helps treating constipation.
It balances Vaat, Pitt and Kuff.

Additional Information

DASHMOOL - It is blend of ten ayurvedic roots. It reduces inflammation. It has significant anti-oxidant and anti- inflammatory properties.
HARAD - Harad benefits the whole digestive tract. It increases appetite and improves digestion. It also provides cure for diarrhoea.
BAHEDA -It is full of antioxidant properties and Strengths level pain killer.
GHRIT KUMARI - It is known to have detoxifying, anti- inflammatory and anti- oxidant properties. It boosts immunity and digestion.