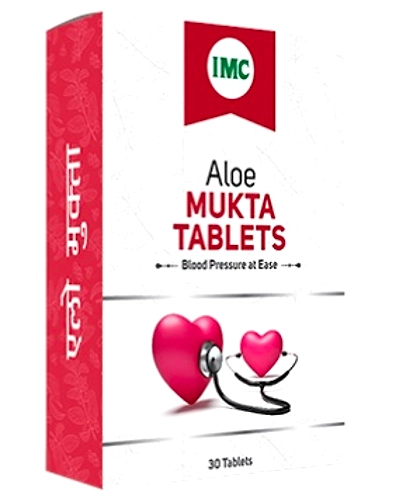 Aloe Mukta (30 Tablets)
You Save: 18. Discount 5%
| | |
| --- | --- |
| SKU: | RHIHE000115 |
| Availability | In Stock |
Write a Review
Controls blood pressure
Helps reduce cholesterol level
Helpful in controlling hypertension, tachycardia, vertigo, and syncope
Helps regulate the blood sugar level in patients with diabetes

Additional Information

ALOE VERA - Helps lower blood sugar levels.
ASHWAGANDHA - Helps you maintain sleep rhythms by calming those wrecked nerves.
BRAHMI - This perennial herb helps you in improving hypoglyceamia, so that you can lead a healthy and normal life
SHANKHPUSHPI - Those anxieties that shoot your blood pressure are well-dealt with by this magical herb

It gives instant relief to the patients suffering from blood pressure fluctuations, helps to regulate cholesterol levels and associated symptoms such as dizziness, insomnia, headache, hypertension, etc.