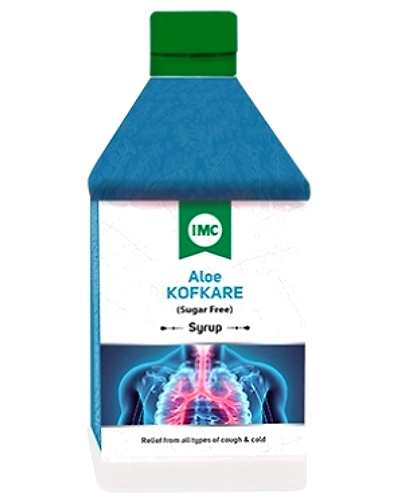 Aloe Kof Kare Syrup (Sugar Free) (100ml)
You Save: 5. Discount 4.55%
| | |
| --- | --- |
| SKU: | RHIHE000111 |
| Availability | In Stock |
Write a Review
Beneficial for all types of cough and cold.
Beneficial for common seasonal cold and cough.
An Ayurvedic sugar-free medicine with no side effects.
Useful for bronchitis and influenza

Additional Information

Effective in breathing disorders, throat irritation, helps in cleansing mucus from lungs and respiratory tract. It helps in relieving cough, bronchitis, pneumonia and influenza.

ALOE VERA - The anti-inflammatory and antimicrobial effects of the natural gel present in Aloe Vera helps you get relief from dry cough due to allergies and throat infections.
ADUSA PLANT - An effective medicine for cough, cold, bronchitis and asthma.
TULSI - An excellent remedy for cough and cold, Tulsi has antiviral qualities and is a powerhouse of flavonoids.
BAHEDA - One of the three fruits of Triphala, Baheda acts as a calming agent and helps relieve sustaining cough and cold.