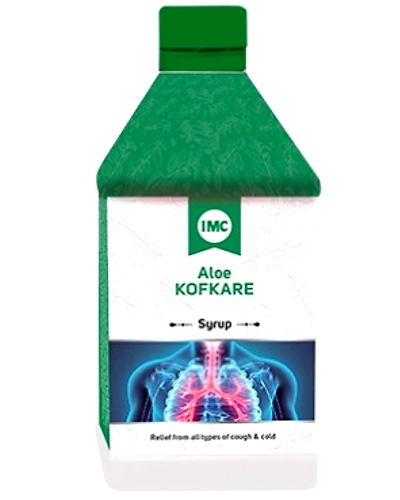 Aloe Kof Kare Syrup (100ml
You Save: 4. Discount 4.44%
| | |
| --- | --- |
| SKU: | RHIHE000110 |
| Availability | In Stock |
Write a Review
Helpful in giving relief from all kinds of cough and cold
Helpful in curing bronchitis, pneumonia, asthma etc.
Helpful in relieving from dry cough
Additional Information

Effective in breathing disorders, throat irritation, helps in cleansing mucus from lungs and respiratory tract. It helps in relieving cough, bronchitis, pneumonia and influenza.

ALOE VERA - It helps to maintain the pH balance, thus helping you to fight several diseases. It is very helpful in fighting mouth sores during fever and pains associated with it.
ADUSA - It is an extremely helpful herbal plant, which can cure cough and other respiratory ailments. It is very useful in treating cough, asthma, and bronchitis.
TULSI - Suggested by a nutritionist, Tulsi when mixed with other ingredients can keep cough at bay. It is also useful to treat microbial infections and boost immunity.
HARAD - It helps heal inflammation and provides relief from the common cold. Thisherb is also helpful in treating sore throat, dry cough, and discharge mucus.