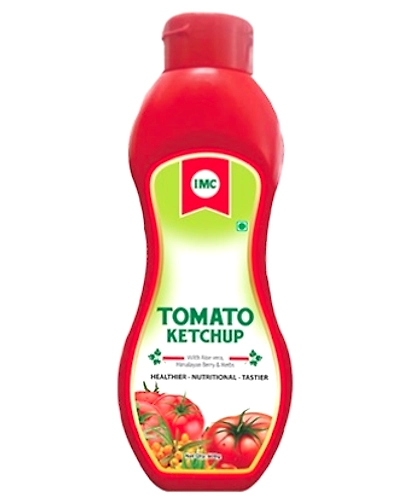 Tomato Ketchup (600g)
You Save: 5. Discount 3.33%
| | |
| --- | --- |
| SKU: | RHIF000032 |
| Availability | In Stock |
Write a Review
Not merely a lip smacking flavour enhancer, IMC Tomato Ketchup has nutritional qualities.
IMC Tomato Ketchup is a low calorie health friendly product.
IMC Tomato Ketchup is a distinctive tangy twist to any food item.
Every dish turns tastier with a dash of IMC Tomato Ketchup added to it.
Additional Information

ALOE VERA - Aloe Vera contains antioxidant and antibacterial properties.

HIMALAYAN BERRY - Himalayan Berry is full of anti-aging, anti-disease, and anti-oxidant.

BRAHAMI EXTRACT - It contains powerful antioxidants and may reduce inflammation.

ASHWAGANDHA EXTRACT - An ancient medicinal herb, it can reduce blood sugar levels and can also help your body manage stress.

Step 1 - Simply open the bottle.

Step 2 - With its smooth texture, the IMC Tomato Ketchup is easily to spread along with food.

Step 3 - Just dunk and delight in taking food.