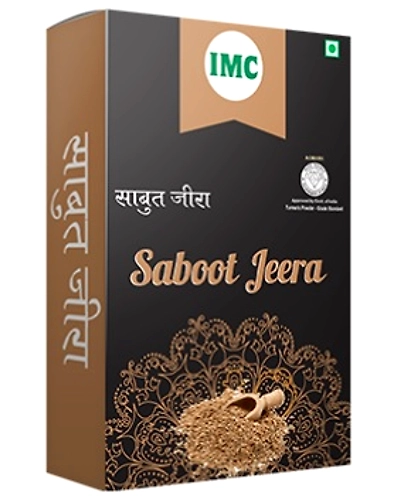 Saboot Jeera (100g)
You Save: 4. Discount 5.33%
| | |
| --- | --- |
| SKU: | RHIF000031 |
| Availability | In Stock |
Write a Review
Exotic Food Spice
Considered to be an essential and requisite spice in Indian Cuisines.
Antimicrobial properties of Whole Cumins may reduce the risk of food borne infections.
When taken with hot water, it promotes digestion and provides relief from stomachache.
A regulated amount in diet supports healthy respiration.
Additional Information

Indispensable food spice can be used in Indian Cuisines. This well-used kitchen spice also consists of medicinal properties.
WHOLE CUMINS - This is the dried seed of the herb Cuminum cyminum. Whole Cumins add a complex texture and flavor. This is also thought to have used in traditional medicines.

Step 1 - While cooking just add a little saboot jeera to make the meals more delightful and tasty.

Step 2 - It can be sprinkled over salad for a better taste.