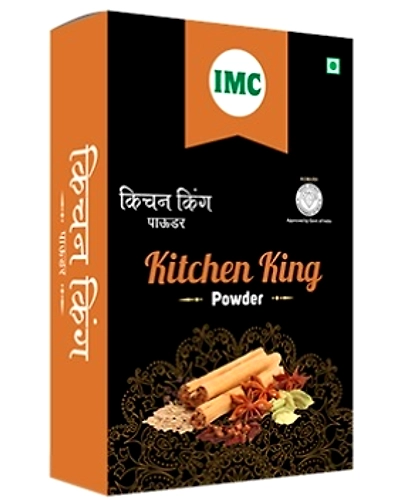 KITCHEN KING POWDER (100g)
You Save: 4. Discount 5%
| | |
| --- | --- |
| SKU: | RHIF000028 |
| Availability | In Stock |
Write a Review
The aromatic Kitchen King Masala adds flavour, taste and retains the freshness of the food
Very good appetizer and good stimulant
Gives aroma to food and makes it colorful and delicious
Also effective in digestion, blood circulation, stress management
Increases metabolism and immunity
Additional Information

BLACK PEPPER - Stimulates digestion

FENUGREEK - Balances cholesterol level and reduces digestive tissue

CLOVES - Reduces bad breadth, cough, headache, and sinuses

CINNAMON - Aids in weight loss

Step 1 - Add oil and put vegetables as you do

Step 2 - Add 25 gms of Kitchen King Masala to it

Step 3 - Cook for a few minutes.

Step 4 - Enjoy your cooked vegetables with IMC's Kitchen King Masala

The aromatic Kitchen King Masala adds flavour, taste and retains the freshness of the food. It gives relief from burning sensations, easy to digest and regulates blood circulation. It's made in 100% natural processes without any pesticides, chemicals, artificial food colors or essence. It has more than 15+ herbs and spices like Coriander, Cumin, Chilli, Cardamom, Garlic Flakes, Onion Flakes, Dry Potato, Dry Ginger, Salt, Turmeric, Dry Mango, Shahjeera, Black Pepper, Asafetida, Cassia, Cloves and Kasuri Methi. This spice adds fantastic aroma and awesome taste in the recipes. May be, that is why it is known as kitchen King Masala.