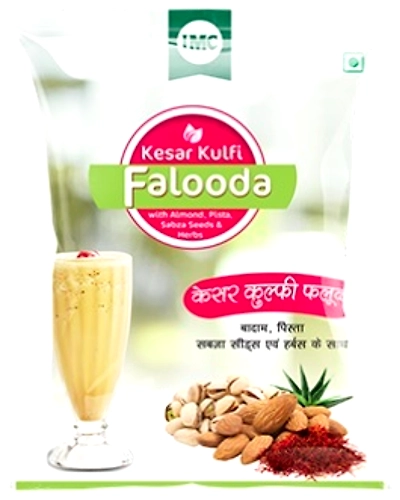 Kesar Kulfi Falooda (180g)
You Save: 5. Discount 4.17%
| | |
| --- | --- |
| SKU: | RHIF000027 |
| Availability | In Stock |
Write a Review
delicious dessert, specially crafted for you to experience a heavenly taste. A ready to eat product its the fastest way of treating your taste buds with what it desires.
Delicious, healthy, fresh and easy to prepare
Rich in anti-oxidants
Improves hemoglobin, metabolism, immunity and energy level
Makes teeth, hair, skin, and bone strong
Additional Information

Enriched with natural herbs, IMC's KesarRabriFalooda is an exquisitely developed ready to eat dessert. Every bite of this beauty will transport you to the streets of Dilli 6, where one gets to relish the best in the game. This amazing food product, with its great taste and loaded with carbohydrates, can provide instant energy. It also takes care of your metabolism and immunity, thus keeping the body fit and active. Enriched with Kesar, almond and various other natural ingredients, this is the right combination of taste and health.

It improves digestion, beats the heat and keeps the person energized. It is a perfect combination of taste and nutrition. Mix 180gm of Kesar Kulfi Falooda in 1kg of boiled milk. Stir well on low flame for 20 minutes. Refrigerate it for 20 minutes to cool. Now nutritious, healthy and delicious Kesar Kulfi Falooda is ready to consume.