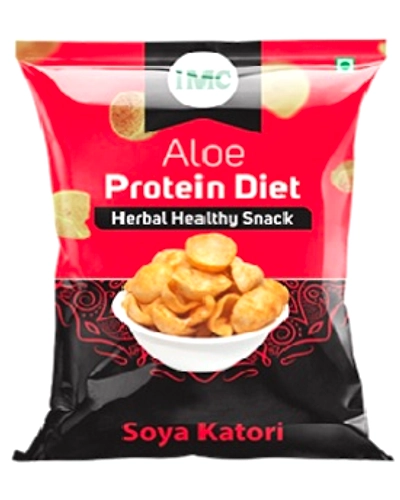 Aloe Protein Diet: Soya Katori (60g)
You Save: 2. Discount 5.26%
| | |
| --- | --- |
| SKU: | RHIF000012 |
| Availability | In Stock |
Write a Review
Aloe Protein Diet Soya Katori is a perfect source of healthy nutrients to boost your health.
Unquestionably it is a tasteful and delightful treat.
It is good for the small pangs of hunger when you need to eat something healthy and tasty.
It is an ideal snack which can be served with tea, coffee or cold drink.
A toothsome, tasty and nutritious snack is IMC Aloe Protein Diet Soya Katori.
Additional Information

SOYABEAN - It is low in fat with zero cholesterol and an excellent source of fiber.

RICE FLOUR - It increases the absorption of Vitamin C in the body.

VEG. REFINED OIL - It is considered heart-healthy. It may reduce the risk of heart problems.

GROUND SPICES - Ground Spices lower blood sugar levels and have a powerful anti-diabetic effects. Ground Spices also boost immunity.

Step 1 - This herbal healthy snack is a ' Ready To Eat Dish.'

Step 2 - Just open the pack.

Step 3 - start enjoying the tasteful moments.

Crammed with energy, protein, and fiber, IMC has brought in the best snack for you. Apart from its tasteful attributes, it is a nutritious snack. Its stuff tastes amazing.