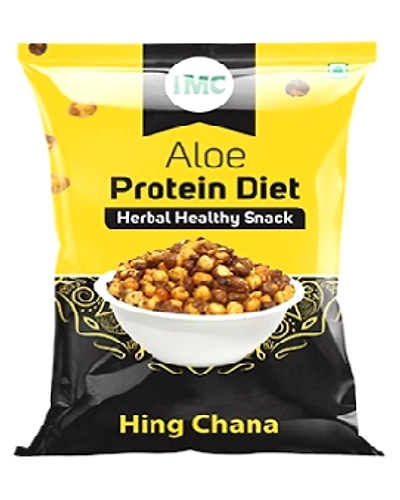 Aloe Protein Diet: Hing Chana (60g)
You Save: 2. Discount 5.26%
| | |
| --- | --- |
| SKU: | RHIF000009 |
| Availability | In Stock |
Write a Review
Due to its digestive properties it can control and reduce stomach woes.
The protein content in roasted grams can help in controlling and reducing weight.
Asafoetida can keep respiratory diseases under control.
These healthy delights can keep hunger pangs at bay as this snack is sure to keep you fuller for a long time.
A palatable, full-flavored and appetizing snack. Aloe Protein Diet Hing Chana is a mouth-watering roasted grams seasoned with asafoetida and cumin seeds along with other health-friendly ingredients

Additional Information

ROASTED GRAMS - Roasted Grams stabilize blood pressure, lower cholesterol level and reduce inflammation. Roasted Grams also help control diabetes.

REFINED COTTON SEED OIL - Along with lowering inflammation, refined cottonseed oil can improve blood pressure. It also reduces the risk of heart diseases.

ASAFOETIDA - Asafoetida or Hing is an ancient medicine for stomach problems. It consists of anti-spasmodic and anti- inflammatory properties.

BRAHAMI EXTRACT - It contains powerful anti-oxidants and may reduce inflammation.

Step 1 - This is a ready -to - eat crunchy and chewy snack.

Step 2 - Add cheese or veggies to increase its nutritional value

Step 3 - savour it in the form of 'chaat.'

Zestful, chewy and condimental IMC Protein Diet Hing Chana provides the sensation of flavour and taste in the mouth. Usage of nutritious ingredients in this good-tasting snack is an add on merit