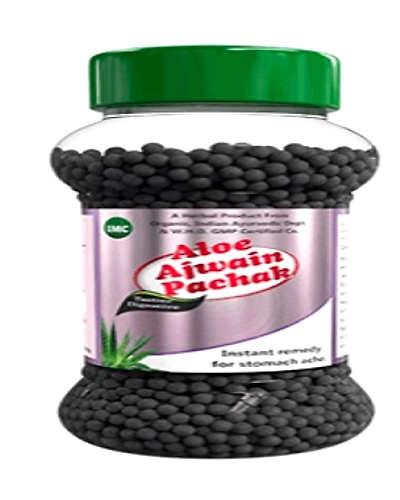 Aloe Ajwain Pachak (100g)
You Save: 4. Discount 5.33%
| | |
| --- | --- |
| SKU: | RHIF000003 |
| Availability | In Stock |
Write a Review
Gives instant relief from stomach ache
Helps cure acidity, constipation, gastric issues and flatulence
Improves digestion the natural way
Keeps the stomach happy and healthy
Tasty digestive, which is useful in healing several stomach problems like stomach ache, acidity, constipation, gastric problems and flatulence
Additional Information

ALOEVERA - It has digestive qualities, which normalise the system and induce regularity. This magical plant is said to be a great digestion enhancer and is useful for relieving ulcers.

AJWAIN - A spice that every Indian household is too familiar with is a natural way of treating acid reflux problems.

JEERA - It helps getting rid of acidity and bloating, and has medicinal properties for indigestion. This healthy spice also works as a painkiller and can be used in healing stomach ache and abdominal pain.

DHANIA - It guides the digestive system to produce more enzymes and juices, in order to prevent a queasy stomach.

Step 1 - Take 2-3 Tablets twice a day

Step 2 - Or, as directed by the physician

Step 3 - Should not be consumed by patients suffering from diabetes and hypertension

Step 4 - In case of severe stomach pain, take a dose immediately for instant relief

Aloe Ajwain Pachak is a digestive, which can be used as an instant remedy for stomach ache, acidity, constipation, gastric problems and flatulence. An Ayurvedic medicine enriched with Aloe Vera and several other important natural herbs like Celery, Cumin, Aloe Vera, Black Salt, Ginger, Tejpatra etc. This powder can improve your digestion and keep your stomach healthy and happy. So, say goodbye to all your digestive problems with Aloe Ajwain Pachak and have a healthy stomach. Have it for anytime relief, the delicious way!