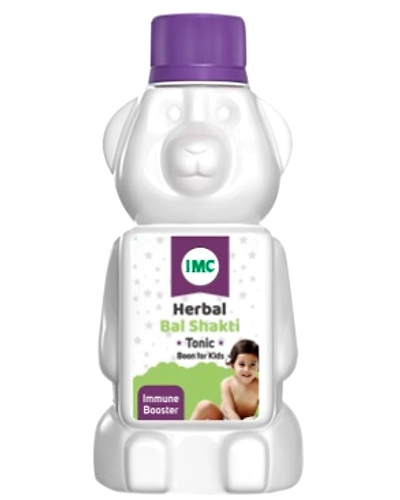 Herbal Bal Shakti Tonic (250ml)
You Save: 4. Discount 2.22%
| | |
| --- | --- |
| SKU: | RHIB000001 |
| Availability | In Stock |
Write a Review
Enhances intelligence and brain functioning.
Accelerates weight gain and improves digestive system.
Prevents weakness, anemia, and illness.
Additional Information

ALOE VERA - Decreases puffy eyes and helps to return moisture back .

BRAHMI - Influences brain functioning and sharpens memory.

SANKHPUSHPI - Improves nervous system and hence memory as well as a concentration in children.

ASHWAGANDHA - Boosts overall immunity.

1 year and above 2-3ml(half teaspoon)

2 years and above 5ml (1 teaspoon)

6 years and above 10ml (2 teaspoons)

10 years and above 20ml (4 teaspoons)

Boosts memory, concentration and focus. It helps in weight gain by regulating digestion and increases appetite. It helps in controlling mood swings in children.